Levels of wellbeing, resilience, and physical activity amongst Irish pre-service teachers: a baseline study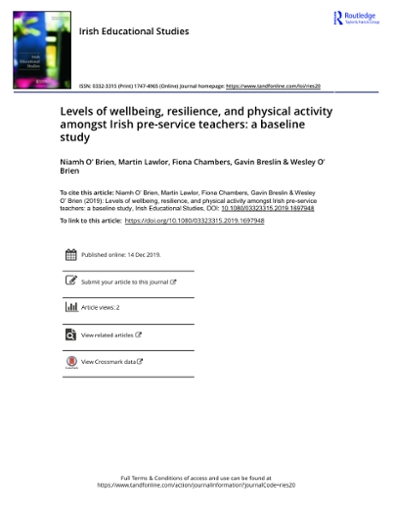 Name:
O' Brien et al., 2019 Levels of ...
Size:
1007.Kb
Format:
PDF
Description:
Levels of wellbeing, resilience, ...
Your vote was cast
Thank you for your feedback
Journal title
Irish Education Studies
Abstract
The current study examines the wellbeing, resilience and physical activity (PA) levels among Irish pre-service teachers. Participants were a sample of 128 higher education students (29% male; 71% female; mean age range 18–27 years old) who completed a self-report questionnaire, using a combination of established instruments for wellbeing, resilience, and PA. Descriptive data revealed that 39.1% presented with low levels of resilience, and 74% were not meeting the PA guidelines for health. One sample t-tests further revealed the sample population of higher education students had lower wellbeing (t (127) = −3.05, p = .003) and resilience (t (127) = −6.48, p = .003) levels, when compared to the population normative data. Results from the existing study suggest that a structured mental health and PA education awareness intervention for Irish pre-service teachers may be warranted, specifically to increase the lower than expected levels of resilience. The existing sample of pre-service teachers are at a critical time of transition, as they move forward into a profession where self-awareness of wellbeing is required at the beginning of their careers to sustain health both inside and outside of the classroom.
Publisher
Irish Education Studies
ae974a485f413a2113503eed53cd6c53
10.1080/03323315.2019.1697948
Scopus Count
Collections