Authentic inclusion-utopian thinking? – Irish post-primary teachers' perspectives of inclusive education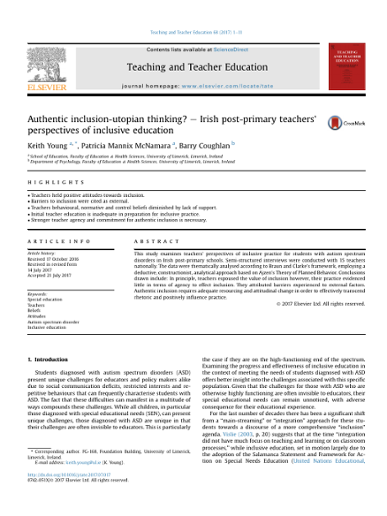 Name:
TATE Paper.pdf
Size:
413.3Kb
Format:
PDF
Your vote was cast
Thank you for your feedback
Journal title
Teaching and Teacher Education
Abstract
This study examines teachers' perspectives of inclusive practice for students with autism spectrum disorders in Irish post-primary schools. Semi-structured interviews were conducted with 15 teachers nationally. The data were thematically analysed according to Braun and Clarke's framework, employing a deductive, constructionist, analytical approach based on Ajzen's Theory of Planned Behavior. Conclusions drawn include: In principle, teachers espoused the value of inclusion however, their practice evidenced little in terms of agency to effect inclusion. They attributed barriers experienced to external factors. Authentic inclusion requires adequate resourcing and attitudinal change in order to effectively transcend rhetoric and positively influence practice.
ae974a485f413a2113503eed53cd6c53
10.1016/j.tate.2017.07.017
Scopus Count
Collections